10 Incredible Venues for Your Meetings in Germany
min read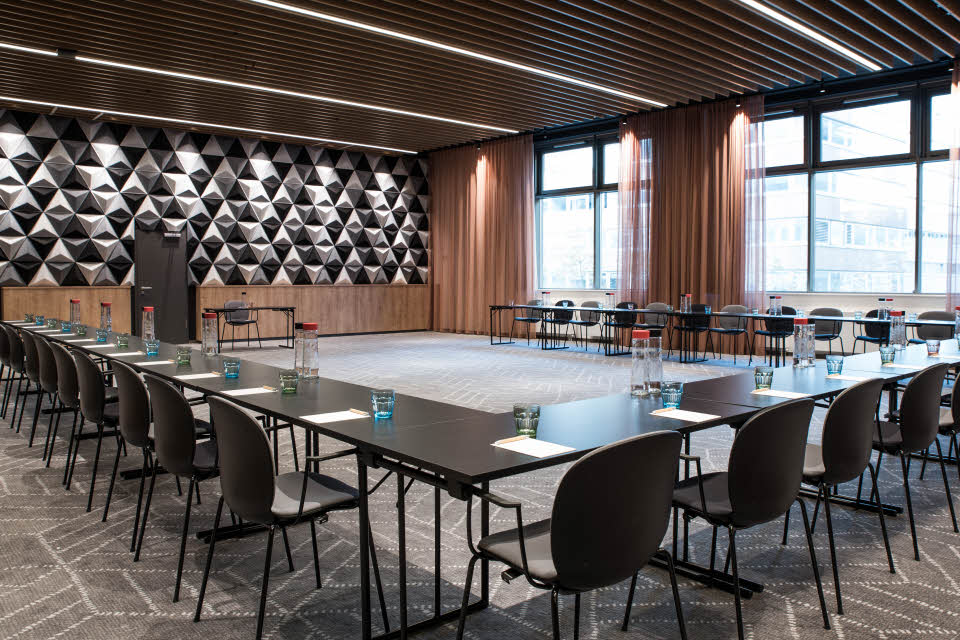 Want to host your meetings in Germany? Smart move. The country is not only a great choice because of its central location, but also because of its convenient access to other EU markets and great infrastructure. These are 10 venues in Germany that you need to know.
1 - Barceló Hamburg
Only a few meters from Hamburg's Central Station, you'll find Barceló Hamburg. This 4-star hotel offers 6 meeting rooms, complete with all the convenience, and comfort you need. Host your smaller business meetings in the 25 m² Miró I, which is fitted with the latest technical equipment. Or organize a larger product presentation in Picasso I - II, with room for over 120 persons in a school seating arrangement. Whatever you need: with its convenient location and excellent facilities, Barceló Hamburg provides the perfect setting for your meetings in Germany.

Do you have some free time in between your meetings in Germany? Take advantage of the hotel's fantastic location to explore the city of Hamburg. Stroll along the banks of the Binnenalster, enjoy local food and drinks, or enjoy the city's vibrant nightlife. Would you rather stay inside the hotel? Try their à la carte restaurant or discover the exclusive 1700 Winery Bar & Restaurant.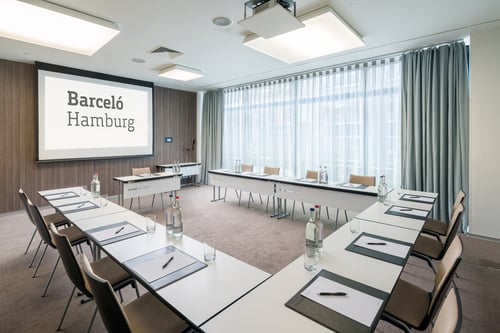 2 - Scandic Frankfurt Museumsufer
Enjoy the gorgeous views of Frankfurt from the Scandic Frankfurt Museumsufer hotel. This hotel is located close to the Main river and the famous Römerberg square, giving you more than enough beautiful sights to take in. Do you like a little more action? With the many cultural and historical attractions in the surrounding area, you won't ever get bored. Make sure to visit Museumsufer, a district that is home to over a dozen museums, galleries, and cultural institutions.

Besides its nice location, the Scandic Frankfurt Museumsufer is a great choice for business travellers. The hotel offers 7 meeting and conference spaces, including a large conference center that can fit up to 285 people. It also offers an innovative conference programme, complete with revitalising meals and an award-winning sustainability strategy. This is one of the best venues in Germany that will do anything to ensure your meetings run smoothly and give you the additional benefit of a clear conscience. Get ready to have some sustainable meetings in Germany!

Book Scandic Frankfurt Museumsufer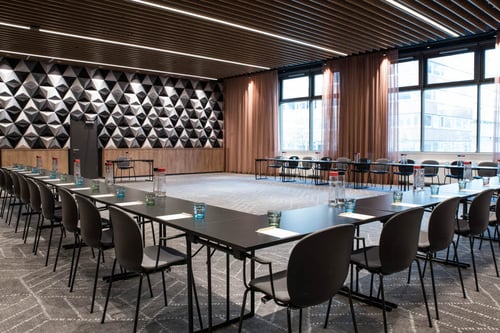 3 - NH Collection Frankfurt City
NH Collection Frankfurt City is the perfect spot to host your meetings in Germany. Not only because of its convenient location in the heart of Frankfurt, only 5 minutes away from Frankfurt's world-famous exhibition centers. But also because of its very modern and well-equipped conference facilities. You can choose from 5 meeting rooms, each of them able to fit up to 140 guests. Every meeting room features state-of-the-art equipment and can be set up to accommodate groups of all sizes. Fun fact: all 5 meeting rooms owe their clever name 'Mainhattan' to the Main river, which is only a short walk away.

After a long day of meetings or conferences, there are plenty of ways to relax and unwind at NH Collection Frankfurt City. The hotel features a fitness center and a sauna, as well as a cosy bar and restaurant where you can enjoy a refreshing drink or a delicious meal. Or simply relax in your comfortable and stylish guest room, which offers all the amenities you need to feel at home.

Book NH Collection Frankfurt City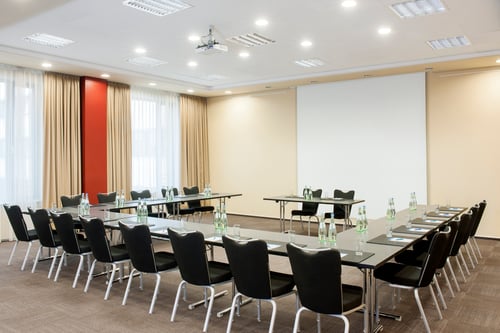 4 - Hilton Düsseldorf
Are you looking for venues in Germany that can fit both smaller and larger parties? Stop right here, the Hilton Düsseldorf offers it all. This great hotel, located in the center of Düsseldorf, features a 982 m² ballroom with capacity for up to 1300 people. Ideal for product launches, conferences or other major business events. Don't need that much space for your meetings in Germany? There are also meeting rooms for 10 – 50 people close to the ballroom, equipped with all necessary facilities and services.

Business meetings are often helpful, but also draining. Luckily, the Hilton Düsseldorf hotel features a range of amenities and facilities to help you unwind after a long day. Sweat if off at the gym, relax at the sauna or cool down in the indoor pool. Ready for a bite? Enjoy the international cuisine at Restaurant MAX, or explore the many flavours of Düsseldorf's bars. Your meetings in Germany have never been so tasty.

Book Hilton Düsseldorf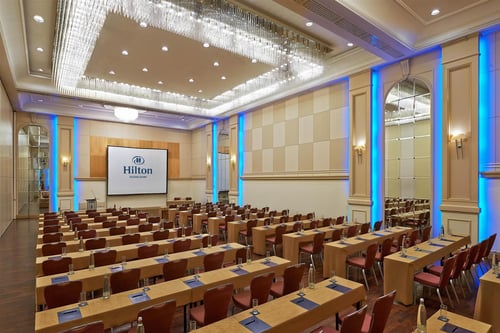 5 - H4 Hotel Residenzschloss Bayreuth
Looking for a special place to host your meetings in Germany? In the beautiful city of Bayreuth you'll find H4 Hotel Residenzschloss Bayreuth. A modern, well-facilitated hotel located in the city center, which is known for its rich cultural heritage and beautiful parks and gardens. Want to experience the countryside? Explore the green state of Bavaria, which offers plenty of opportunities for hiking, cycling, and outdoor recreation. End your day with a traditional Bayreuth beer, and you're bound to fall in love with the city even more.

Of course, the hotel also features great conference facilities. There's a total of 264 m² of event space, divided over 4 meetings rooms. All these rooms together hold up to 435 people. So, both for your larger and smaller meetings in Germany, the H4 Hotel Residenzschloss Bayreuth has got you covered.

Book H4 Hotel Residenzschloss Bayreuth

6 - Maritim Hotel Düsseldorf
If you're looking for a German venue with meeting rooms in all shapes and sizes, the Maritim Hotel Düsseldorf provides just that. The hotel offers a choice of 33 conference rooms, from a 29 m² boardroom to the Saal Maritim covering 2,534 m². Do you have a specific seating arrangement in mind? All rooms are flexible and can be divided or combined.
Do you have time for a day off? Go on a food marathon. Anyone who's been to Düsseldorf will tell you that the food is phenomenal. The city's full of local produce, innovative cooking and traditional dishes that will keep you eating all day. And do you like long walks? Stroll along the Rhine river, visit the Königsallee shopping district and explore the Old Town. When you want to relax, take advantage of the hotel's fitness center, spa, or on-site restaurants.

Book Maritim Hotel Düsseldorf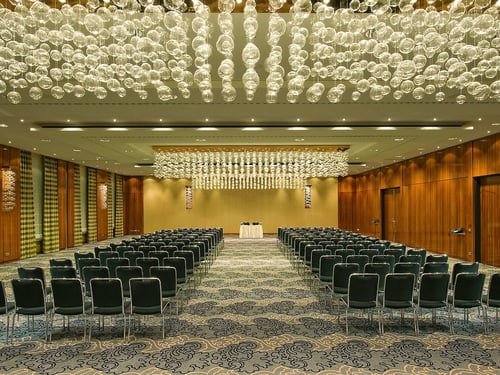 7 - Maritim Hotel Frankfurt
The Maritim Hotel Frankfurt is a great choice when you're hosting your meetings in Germany. For one, it's ideally situated between the exhibition grounds, the Congress Center of Frankfurt and the Festhalle arena. Second, the hotel offers 7 contemporary conference rooms for up to 400 guests. Are you hosting an extra large event? The Maritim Hotel Frankfurt is linked to the Congress Center and the 20,000 m² Exhibition Hall 5, where you have almost an unlimited amount of space at your disposal.

During your free time in Frankfurt, there are plenty of things to do. Visit some of the city's top museums, such as the Museum of Modern Art and the Goethe House. Or explore the city's shopping and dining districts. If you want to wind down, pamper yourself at the hotel's spa or take in the views from the rooftop bar.

Book Maritim Hotel Frankfurt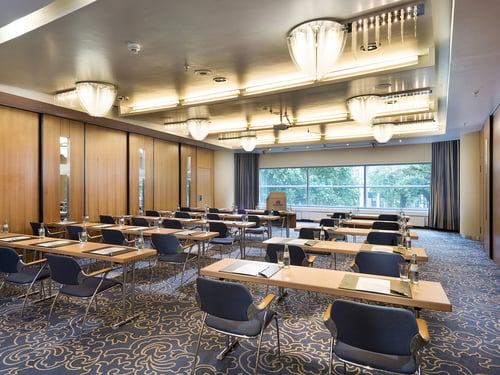 8 - Leonardo Royal Hotel Frankfurt
Do you often host larger meetings in Germany? Then the Leonardo Royal Hotel Frankfurt should be on top of your list. This hotel offers 15 modern, flexible meetings rooms, which can be arranged to fit up to 400 guests. Together with the 449 spacious hotel rooms, you can easily book the whole hotel for your large event. Whether you're hosting a product presentation or a large Christmas gathering, the options at Leonardo Royal Hotel Frankfurt are endless.

Need some time to relax? The Leonardo Royal Hotel Frankfurt offers a range of amenities for you to enjoy. From a fitness center and spa, to a variety of dining options in restaurant Vitruv. Of course, exploring the city of Frankfurt is also a great way to free your mind. Visit the Frankfurt Cathedral, take a stroll through the city's beautiful parks or try some local cuisine.

Book Leonardo Royal Hotel Frankfurt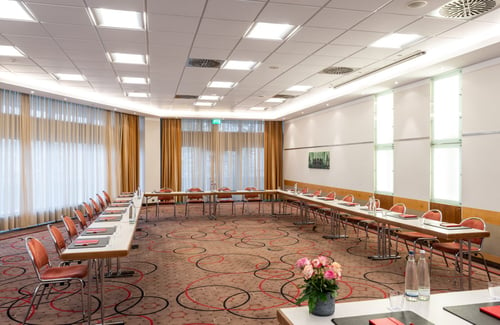 9 - Scandic Berlin Potsdamer Platz
This hotel is located in the heart of Berlin, on the well-known Potsdamer Platz. A great location with sights such as the Berlin Wall, the Brandenburg Gate and the Reichstag within walking distance. With a wealth of shopping opportunities, restaurants and entertainment just around the corner, you'll make this business trip an unforgettable adventure.

Before entertainment, business needs to be done. And you can do that responsibly at the Scandic Berlin Potsdamer Platz. This hotel is Berlin's greenest and has 16 meeting rooms perfect for sustainable meetings in Germany. Staying overnight? Relax in the bar with Sky TV in the evening and enjoy an organic breakfast in the morning.

Book Scandic Berlin Potsdamer Platz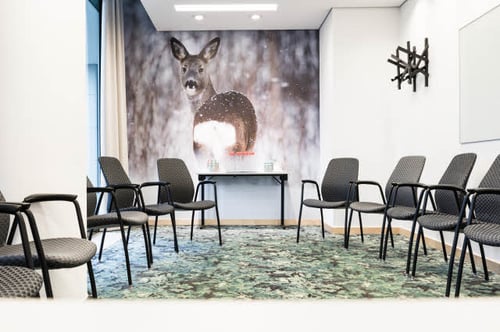 10 -
Park Inn by Radisson Berlin Alexanderplatz
Another gem in Berlin, but at a different square. The Park Inn by Radisson Berlin Alexanderplatz is a great choice for business travellers. Its central location in the heart of Berlin makes it easy for guests to access the city's top attractions and business districts, and it is within walking distance of public transport. However, the inside of the hotel might just be even more magnificent. The hotel offers 8 meeting rooms for conferences and celebrations with up to 320 people. They all have loads of daylight, modern technology and catering for lunch or coffee breaks.

Need a longer break from work? With its height of 150 meters, the Park Inn by Radisson Hotel Berlin Alexanderplatz is Germany's second-largest hotel. Enjoy the views with a drink from Spago's Bar & Lounge. Or step outside and start exploring the city. After all, you are staying on Alexander Platz, with highlights such as the Fernsehturm and the Berliner Dom just around the corner.

Book Park Inn by Radisson Berlin Alexanderplatz